Our History
More than our history, it's our family legacy.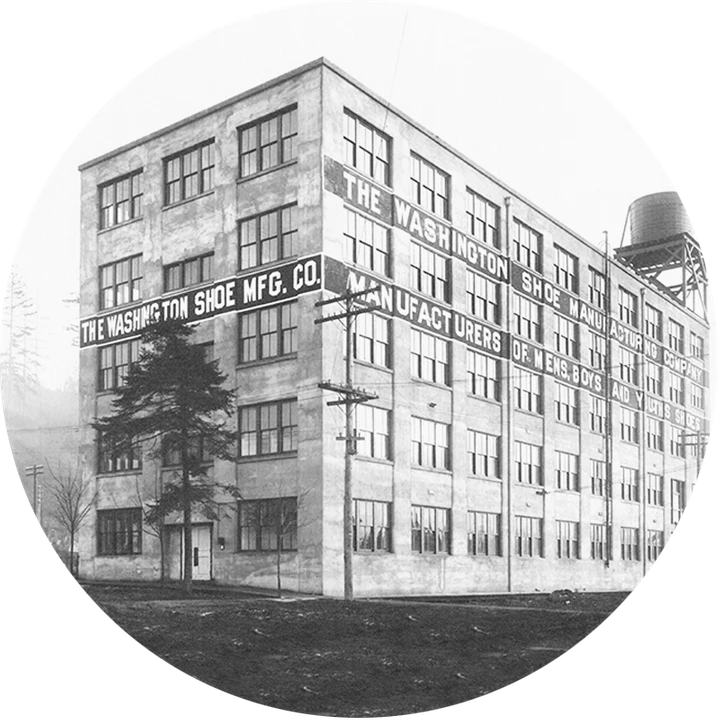 1891 ~ Founded in Seattle
Founded in Seattle on January 24 by T.J. Thorsen (vice president and general manager), L.B. Allain (president), and G.M. Barber (secretary).
It was Seattle's first shoe company, making boots and shoes for outdoor workers under the Western Chief name. Added demand came with the Alaska Gold Rush in 1898.
In 1911 Henry Moehring joined the company, buying out his remaining partners when T.J. Thorsen died.
1930 ~ Moving to Wholesale
Closed factories and moving into the wholesale business, selling domestically sourced footwear in the men's, women's and children's categories.
In 1957 brothers Norm and Robert H. Moehring took over the company from their father Henry.
pictured: Henry Moehring gives a sales pitch to wholesale buyers at the Fall Shoe Fair in Seattle. His sons Mel and Robert Moehring are standing on the left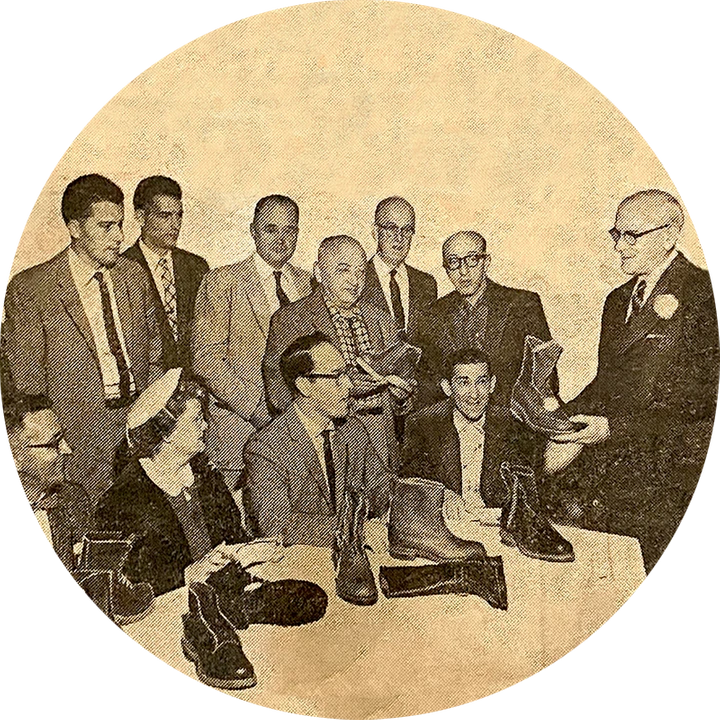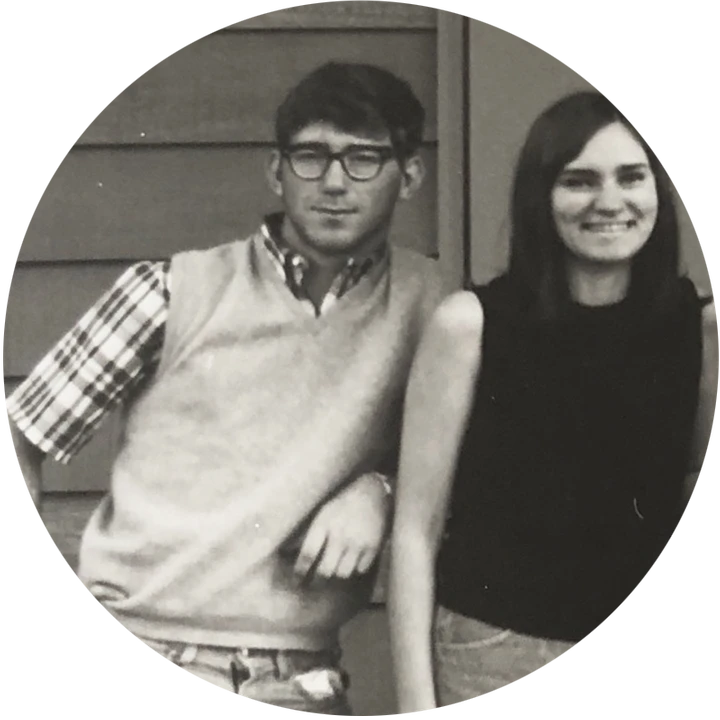 1974 ~ New Horizons
Rob (son of Robert H. Moehring) joined the family business alongside his father and uncle.
In the 70's and 80's Washington Shoe Company shifts to wholesaling juniors' fashion product sourced in Asia.
pictured: Rob Moehring and his wife Val
1990 ~ A Fresh Focus
Rob Moehring acquired the company from his father and uncle, refocusing on rubber boots under the Western Chief brand.
In 1991 Rob Moehring's son, Mark, joined the business.
pictured: Mark and Rob Moehring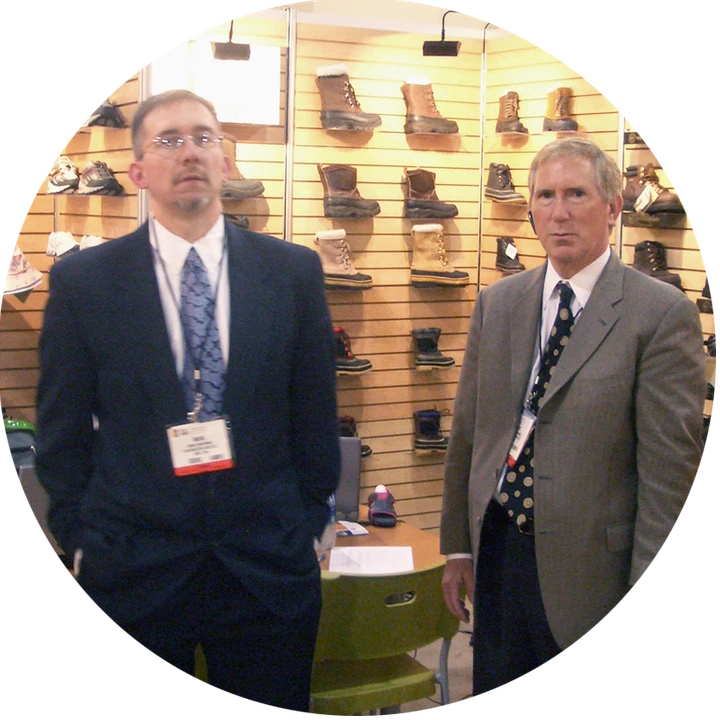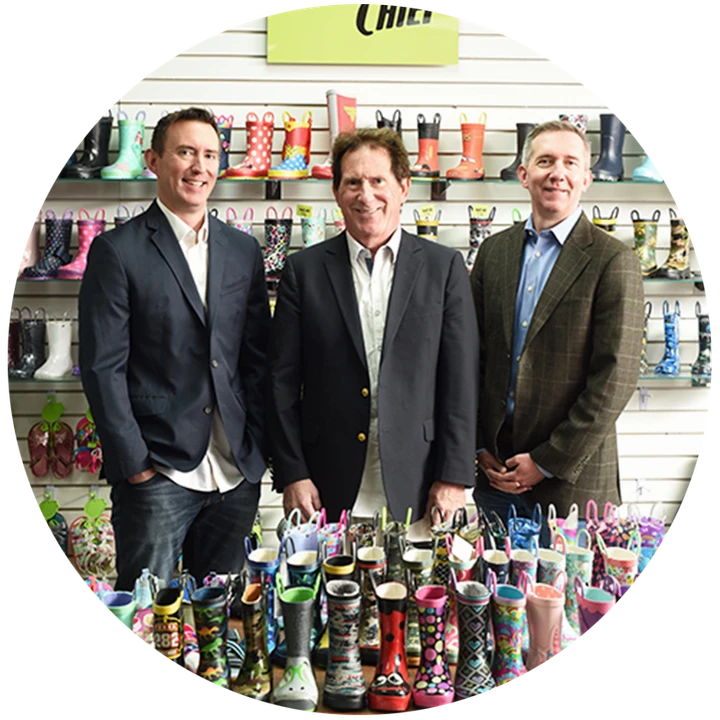 1996 ~ Creating Footwear Icons
Company moved from Seattle to Renton, WA. Here, they introduced 3D character boots for kids. Sheepskin slippers were added under the Staheekum brand name in 1998.
In 2001, due to new technology, women's and kids rubber rain boots debuted a range of novelty printed boots. The company relocated from Seattle to Kent, Washington.

In 2002 Chooka sheepskin boots were launched, evolving into fashion-forward rubber boots. Rob Moehring's son Karl joined the business.
pictured: Karl, Rob, and Mark Moehring
2015 - CHANGING OF THE GUARD
Karl Moehring took over the company from his father, Rob and now serves as CEO. Rob assumed the role of Chairman.
In 2016 Washington Shoe Company launched the non-profit foundation Wear A Big Smile in celebration of our 125th year Anniversary.
In 2021 Washington Shoe Company celebrated its 130th Anniversary.
pictured: CEO Karl Moehring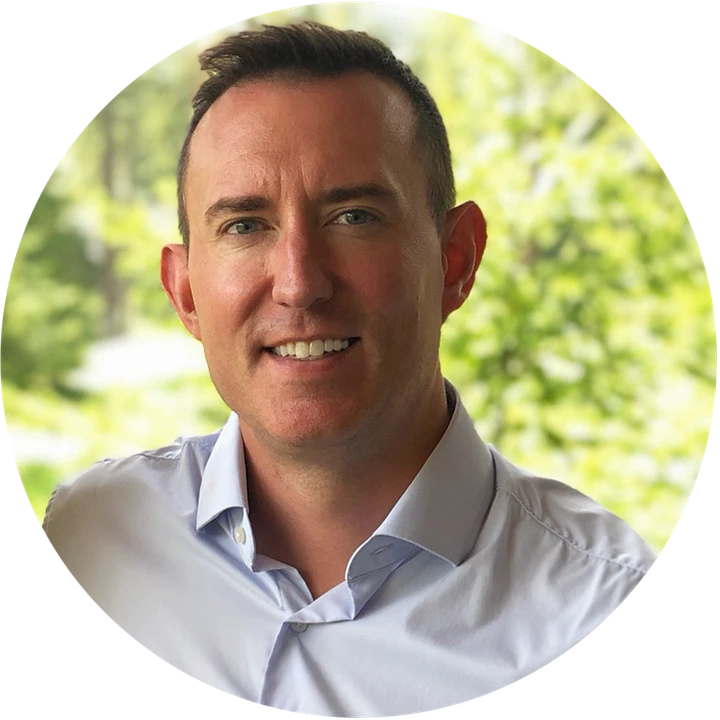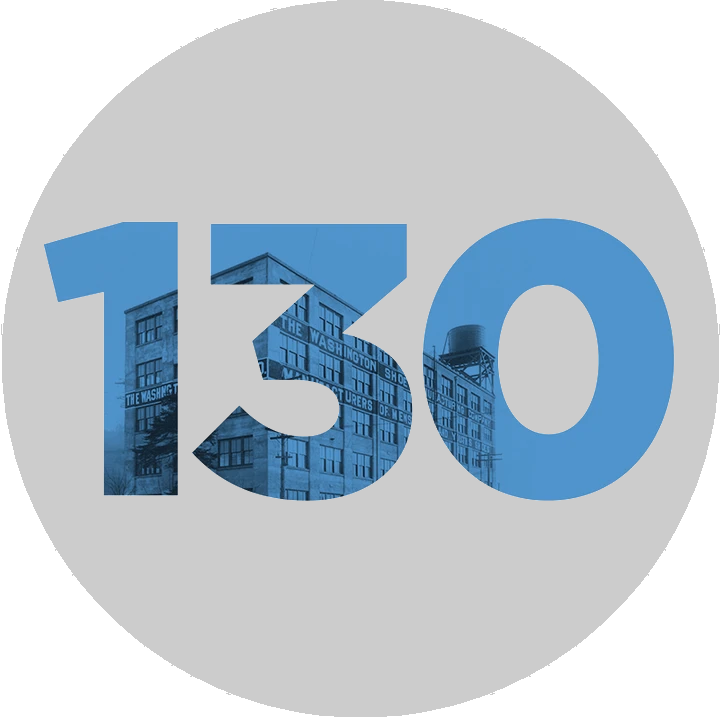 2021 ~ Celebrating 130 Years
In 2021 Washington Shoe Company Celebrates its 130th year in business. CEO Karl Moehring reflects on the legacy of his family's company:
"My first memory of Washington Shoe Company was visiting my dad and grandfather for the day. The business was in an old building in downtown Seattle. I was probably five or six years old and I remember exploring the warehouse. I was fascinated by the old elevator that could hold a car. I got to go to lunch with my dad and grandpa which made me feel so grown up.

Through my life, I have seen the business shrink to a small office in a storage unit to where we are today, in a state-of-the-art 100k square foot facility. We have weathered our fair share over the decades. Today I am honored to have the opportunity to guide the business into the future, but even more proud of all our employees that make WSC the company it is today."